2006
SOCKERS OFC WIN 22ND ANNUAL KANATA OT CUP IN ITS FIRST ATTEMPT
September 15th, 2006
Trenton Sockers formed an over 35 tournament team this year, and have quickly proven they are a force to be reckoned with.In its first tournament, (QOB – Belleville in May), Sockers OFC were semi finalists, then were finalists in Ayr in July at the Gazza Cup, and now are Winners of the 22nd Annual Kanata Oldtimers Cup, in our first time entering the competition.Sockers OFC fielded a team of friends dating back 20 years, and also welcomed some special guests. Sockers OFC opened with a 1-0 win over Russell Raiders, and then tied Ottawa White Eagles 1-1. In a must win match, Sockers OFC downed Arnprior Arsenal 2-1 to qualify for the playoff round, with Dave Gaudaur heading home the winner off a Greg King throw in. In the semi final, Sockers OFC drew Toronto Leaside 1-1, and knocked them out in a penalty shootout, as Iain Callaghan stole the show saving 3 shots.In the Final, Sockers OFC met last year's champs IOSC Banditos from Ottawa, and went ahead early as guest player Tom Moran scored on 3 minutes. Sockers looked to be cruising when the Banditos fought back, and scored 2 quick goals and still led with 5 minutes to go. Stand in coach Terry Boyd, who was out due to injury, rallied the team, and shortly thereafter, Sockers Greg King crossed a perfect ball for the Scouser to run on to and head home. Then with 1 minute left, Tom Moran won a goal mouth scramble and netted the winner that will go down in Sockers OFC history.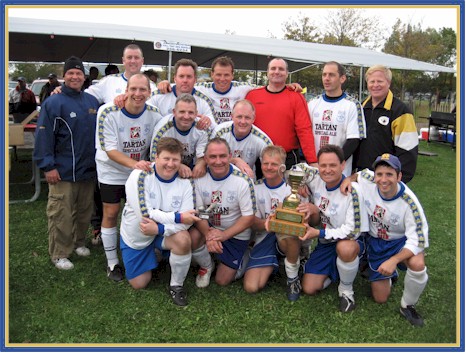 The Championship Team: DINI, BOYD, CALLAGHAN, WHITEMAN, COLLAR, WHITEHEAD, MCLEAN, PETRUSMA, GOODJOHN, SCOUSER, MORAN, RIVERS, GAZZA GREASLEY, GAUDAUR & KING
MEL MURPHY WINS PRESIDENT'S AWARD
September 15th, 2006
Each year the Trenton Sockers award the Presidents award. This award was donated by Mike Whitehead the Club President, as an award for the player/ coach/ manager who shows excellence, and dedication to the Club and soccer. On September 10 th, this award was presented by coach Terry Boyd to OWSL Sockers Team Manager Mel Murphy. Mel has shown excellence in the game in terms of her ability and skills, also her dedication to managing the OWSL team and her commitment makes her the run-away candidate for this award for 2006. Congrats Mel !
SOCKERS B OUTPLAY BRIGHTON IN PLAYOFF FINAL
September 2nd, 2006
It was one of those nights when the better team didn't win. In the playoff final, at Zwick's on Aug 28, Brighton got off to a quick start with 2 goals, and forced Sockers to play catch up. Sockers quickly re-arranged its line up, and dominated the last 50 minutes of the match. Socker proceeded to hit the the woodwork 3 times, and eventually Michelle Gregory was hauled down in the 18 and converted from the spot to get Sockers a goal they thoroughly deserved. Sockers pressed, with 6 strikers at the end, but ran out of time. With another 5 minutes Sockers would have eventually scored and probably gone on to win. Congratulations go out to Manager Barb Angus, Coach Mike Whitehead, and all the Sockers players on a great season. In regualr season play, Sockers remain Division 2 League Champions, as the dynasty continues, winning the title in 2004, 2005 and 2006.
SOCKERS MENS FINISH SEASON IN STYLE
September 2nd, 2006
In what has been a very strange season for the men's team, it all went right on August 31 st at Zwick's, vs Ace. Scott Walcott led Sockers scoring with a hat trick, with the other goals coming from Connor Durkin and Mike Whiteman. Back up goalkeeper Adam CK Erding put in a stellar effort picking up the shutout in the 5-0 win. Mike Whitehead made his return to full fitness after 6 weeks out with a hamstring problem, and rookie sensation Dexter Turner played the game of his life at right full back. Unfortunately Terry Boyd, who is coming off his best season in years, left the match early with an serious achilles strain, specific details unknown. Sockers finish the last part of the season undefeated in league play, with 3 wins and a tie in the last 4 games.
SOCKERS B PROCEED TO FINAL
August 26th, 2006
It was a tough Semi-final Match between the 2 top teams in the B division of the league: Tal Trees Escavating and Trenton Sockers B. Both teams actually placed first overall in the B division based on points, however Trenton Sockers B came out on top decided by their goal difference for the yearThis Semi final match played at Zwicks Park started off strong for Tal Trees who were quick to the ball and showed Trenton that they really wanted the win. However 15 minutes into the first half, the opening goal scored by Barb Angus put Trenton in the lead and gave them the boost they needed to come on stronger. Later in the 1st half Michelle Brigham scored from a free kick just outside the 18 yard box, hammering it over the Tal Tree's wall of players. Michelle then scored again in the 2nd half to give Trenton a 3-0 win. Goalkeeper Shana Adams was rewarded with a strong shutout and MVP of the game for Trenton. 2nd MVP for Trenton was Susan Burge for her excellent team work and ball control.As a result of this win, Trenton Sockers B now move to the final against Brighton Outdoor Design on Monday Aug 28th at Zwicks Park. Kick off 6:15pm. Come and show your support!
HANNAH CHITTENDEN BREAKS SOCKERS SCORING RECORD
August 24th, 2006
Hannah Chittenden scored 6 goals in OWSL action on August 20th , to break the previous Sockers scoring record of 5 goals set last year by Jen McAuley of Sockers B. Sockers routed the Rebels 8-0 to continue their successful inaugural OWSL season. Even more impressive is that Chittenden set the new record in the super competitive Ontario Women's League. Congratulations to Hannah.
SOCKERS B WIN DIVISION 2
August 24th, 2006
For the third consecutive year the Sockers Ladies B team has won the Second Division title. With 10 new players, this was supposed to be a rebuilding season for the team, however, Sockers beat out Tall Trees on goal difference to win the Division. Brighton was 1 point behind. Sockers finish with 12 wins, 2 ties and only 3 losses. Congratulations to all the players, Team Manager / Coach Barb Angus, and Coach Mike Whitehead
SOCKERS MEN'S RESCHEDULED GAME FOR SAT AUG 26
August 24th, 2006
Sockers Men's face Mastro in a re-scheduled league game at MA Sills, Sat Aug 26 at noon.
SOCKERS LADIES IN DOUBLE HEADER PLAYOFF ACTION THURSDAY NIGHT
August 21st, 2006
A FINAL GAME:Congratulations to Sockers Ladies A team who defeated Wahoo 3-1 in the playoff semi final. Sockers advance to face the winner of the Old Boys vs. Capers, the Final to be at Zwicks 2 at 8:15 on August 24th.B SEMI FINAL GAME:Congratulations to Sockers Ladies B team who once again won the regular season title for BQWSL Division 2. Sockers will play in the Division 2 Semi Final at Zwick's 2 at 6:15 on August 24 th, and hope to proceed to the final scheduled for Aug 28th.
SOCKERS PLACE 3RD AT PETERBOROUGH MARK FORSTER
August 16th, 2006
Trenton Sockers Men's Team placed 3rd out of 30 teams this past weekend at the Mark Forster Tournament in Peterborough, going unbeaten in round robin play before being knocked out on penalty kicks in the semi-finals to the eventual champions. The Sockers didn't allow a single goal during the entire tournament, picking up 5 shutouts in succession. In their first game, Sockers picked up the win over Thornhill Eagles 2-0 on goals from Earl Kim and Josh Hill, and solid goalkeeping from Mike Amodeo. In their second game they defeated Peterborough Jagger Hims 3-0 with second half goals from Terry Boyd, Earl Kim, and Josh Hill. In their final round robin game they knocked off 2005 Tournament Champions and favourites Vaughan Kickers 1-0, with solid midfield play coming from Nathan Jackman and Derek Arsenault, and a goal from Josh Hill. Sockers ended round robin play 2nd out of 30 teams, with youngster keeper Mike Amodeo picking his 3rd shutout in a row.In the Quarter-Finals hosted at King Edward Park (location of the Sockers famous 1994 Peterborough Phelan Cup victory), the confident Sockers continued their outstanding defensive ways and overpowered home town favourites Peterborough Soccer Plus 2-0 on goals from Earl Kim and Josh Hill, assisted by Nathan Jackman. Amodeo and the stellar defensive unit of Don Verhage, Bram Courchesne, and Dexter Turner picked up their 4th shutout in a row.In the Semi-Finals, the Sockers played to a scoreless draw against Kingston Vita Inter. The match went into penalty kicks without regular expert penalty takers Terry Boyd and Mike Whitehead, who were unavailable due to injury. The Sockers were finally eliminated 5-4 on the 6th shooter of penalties. Vita Inter moved on to the final to defeat Vaughan Kickers 2-0, to become Mark Forster Champions for 2006.Team players and Coach Steve Whitehead were extremely pleased with their performance. This is the 2nd time in 3 years that the Sockers have made the Semi-Finals of the tournament, and they will be shooting again for the championship next year.
OVER 35 SECOND AT 1ST GAZZA CUP
July 31st, 2006
Trenton Sockers Over 35 Tournament team travelled to an elite tournament in Ayr Ontario, south of Cambridge on the weekend. Known as the Gazza Cup, 4 teams were selected to participate by invitation only. Sockers opened with a 1-0 win over hosts Ayr United, with Crusty Rusty Springer scoring off a rocket shot from 10 yards out with only 2 minutes remaining. Rusty said he only scores spectacular goals, not the easy ones.Sockers then faced Cambridge and came away with a convincing 4-0 victory, with Springer leading Sockers with 2 goals. Iain Callaghan, Don Verhage and JP Dini anchored Sockers defence and restricted Cambridge to only 1 shot.Sockers were set to face Paris (Ont) in the final round robin match, but since Paris were tired out, they talked 'Tony' (who) Greasley into having the last match considered the final. Trenton created plenty of scoring chances, with "Teddie" Boyd getting stuck in at midfield, but the Sockers couldn't convert and lost 4-3 on penalties. Other infamous names turning out for Sockers included Kevin Carlisle, Ken Ruckstuhl, Mike Whitehead, Rudy Mouw, Mike Whiteman, Adam CK, and Dave "Jake" Gaudaur.
SOCKERS B IN TOURNAMENT FINAL FOR THIRD CONSECUTIVE YEAR
July 24th, 2006
The Sockers B won the BQWSL Tournament Title in 2004 and 2005. This year the Sockers made the final once again, after four round robin matches in the heat at MA Sills in Belleville. In the final, Sockers outplayed their Brighton opponents and were by far the better team on the day, but after extra time, the teams were deadlocked at 1-1. Brighton then won the shoot out. Sockers Coach Mike summarized the shoot out loss with … " I'm English, its my fault, we always lose shootouts."
JULY 23RD AT BAIN PARK, TRENTON SOCKERS B DEFEATED COLBORNE WITH SCORE OF 6-0
July 24th, 2006
Goal Scorers for Trenton Sockers B were Popi Xanthos and Michelle Brigham each with two. Susan Burge and Barb Angus also scored a goal each. Huge shut out by goaltender Shana Adams.Trenton Sockers B would like to thank Colborne for an extremely fun game and wondeful sportsmanship on their part.
SOCKERS CUP 2006 CANCELLED
July 5th, 2006
Unfortunately, due to a lack of committment, a very difficult decision had to be made. We received numerous inquiries about the tournament from teams across Ontario. However, even though these began in January, before we'd even decided to host the tournament, the majority remain inquiries only. The decision to cancel at this time was made to allow the teams that had committed to find alternate tournaments. Trenton Sockers F.C., apologises for any inconvenience this may have caused.
SOCKERS B RESCHEDULED GAME
July 5th, 2006
Sockers B vs. Wahoo has been rescheduled to Monday July 17th, at 6:15 pm at MA Sills, Belleville.
SOCKERS ONTARIO WOMEN'S SOCCER LEAGUE RESULTS TO DATE
June 27th, 2006
#

Date

Comp

Opponent

Res

F

A

Goal Scorers

159

May 29

MJC

Ajax Strikers

Loss

0

3

None

162

Jun 2

MJC

Limestone City Snr

Tie

2

2

Christie NAZZER
Hannah CHITTENDEN

163

Jun 4

MJC

Darlington

Tie

2

2

Jennifer PACHECO
Hannah CHITTENDEN

168

Jun 12

MJC

Unionville Milliken

Win

8

0

Emily MURTHA
Heather ARMSTRONG
Lana NISBET
Lana NISBET
Jennifer PACHECO
Hannah CHITTENDEN
Hannah CHITTENDEN
Heather ARMSTRONG

176

Jun 25

MJC

Vaughan Azzurri

Win

6

0

Terri RELF
Jennifer PACHECO
Christie NAZZER
Lana NISBET
Hannah CHITTENDEN
Hannah CHITTENDEN

SOCKERS DIVISION 2 TEAM UNDEFEATED SEASON CONTINUES
June 12th, 2006
The Trenton Sockers B have had an exciting start to the 2006 season. With 18 returning members from last years roster, the team has had no trouble getting its game together quickly. So far the team has played 6 games in the Bay of Quinte Women's League, 5 of which resulted in a win and 1 game tied. 3-0 vs Red Lion, 3-0 vs Colborne, 3-0 vs Bayfield, 4-1 vs Village Pump, and 6-1 vs Proctor and Gamble. Rival team, Tal Trees Escavating gave us a run for our money with a game that resulted in a 0-0 tie. With the coaching staff of Mike Whitehead and Barb Angus along with an extremely talented team, the outlook for the remainder of the season is excellent.
GOOD START IN ONTARIO LEAGUE
June 9th, 2006
The Trenton Sockers Ladies OWSL team has played 3 games to date with one loss and 2 ties. The team has been very pleased with its success thus far. Being a brand new team in a new league the team wasn't sure exactly what to expect, but getting the first few games under the belt has helped sort out what we're up against and we are confident that we will do very well going forward.The team appreciates the support it has received at its home matches at Bain Park. Team stats can be seen at www.owsl.ca under My Team-Trenton Sockers.
SOCKERS PLAN A BIG WEEKEND
May 31st, 2006
This is a big weekend for Sockers FC. The Ontario Women's League Trenton City Sockers team kicks off its home schedule with 2 games in 3 nights at Bain Park: First, on Friday night, June 2nd, at 9 pm at Bain Park v Darlington Wanderers. We'd appreciate as much local support as possible.Then this Sunday, June 4th, at Bain is a women's triple header ….
4:30 Ontario Women's League : Sockers vs Limestone City from Kingston
6:30 Quinte Women's Div 2 : Sockers B v P & G
8:30 Quinte Women's Div 1 : Sockers A v Capers
OLD SOCKS TOURNAMENT TEAM A HUGE SUCCESS
May 30th, 2006
Mike Whitehead and Tom McCulloch hooked up to field an excellent team in the 23 rd QOB Rust Remover Tournament May 27 at Zwick's Park, Belleville. Sockers opened with a convincing defeat of Leeds United, with JP Dini and Terry Boyd getting the goals. The second match Sockers faced Oshawa UFC, and recognized some faces from the MCSL days, and this tough match ended 0-0. Sockers played very well in the third match but narrowly missed out on the Fogie Cup Final dropping a 3-2 scoreline to Stoney Creek. Kevin Parr and Mike Whitehead converted from the spot for Sockers goals. Don Verhage and Kevin Parr were picked as team captains. The line up included the likes of the Whitehead brothers, Gaudaur, Parr, Verhage, King, Greasley, Dini, Boyd, Collar, Courschesne, Callaghan, Whiteman, Kelly, Mawhinney, Rivers, MacDonald and Coltman. Mark Mawhinney and Don Verhage were named as Sockers players of the tournament,Special thanks to Tom McCulloch for his excellent effort behind the bench, and to those players travelling in from out of town. See you guys at the next one !
SOCKERS LADIES 2 FOR 2 IN DIVISION 2
May 30th, 2006
Sockers Ladies have opened a perfect season account, bombing Bayfield 3-0 and taming Red Lion also by 3-0 at home on May 28th. Sockers are shaping up to be a second half team, as all 6 goals have come in the second half of the games. Congratulations to Sockers defence and goalkeeper Shana Adams on her 2 shut outs, and also to Barb Angus, player / co-coach, who does so much for the team.
ONTARIO LEAGUE HOME OPENER CONFIRMED FOR JUNE 2
May 8th, 2006
The highest level of amateur ladies soccer arrives in Trenton on Friday June 2nd. Plan to be there for this memorable night, and to cheer on the home side, as Terry Boyd leads his Sockers Ladies team into Provincial action vs. Limestone City (Kingston.) Kick off will be 9 pm.Rounding out the first weekend of play, Darlington travels to Bain to play the Sockers on Sunday June 4 at 4:30 pm.Check out the schedule section of the website for further home dates, and www.owsl.ca for more info on the league.
TRENTON AMBERS 1960 FEATURING TOM MCCOLLOCH
April 20th, 2006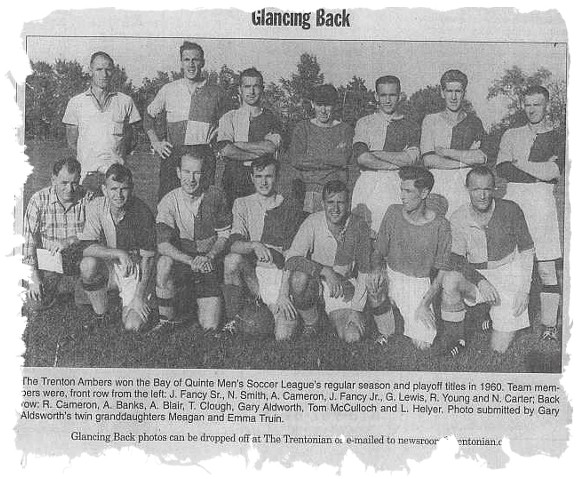 This photo of the Ambers was recently published in the Trentonian Newspaper. Sockers Over 35 Tournament Team Coach Tom McCulloch is featured on this Championship team.
PETERS SIGNS FOR GERMAN SIDE SV09 SCHERPENSEEL
April 20th, 2006
2005 Trenton Sockers Rookie of the Year Ben Peters, has signed for German side SV09 Scherpenseel. The team is entering the second half of its season with a win and a tie to date. Peters made his European debut just over a month ago, entering a close match against FC Shietz. Peters entered the match with 15 minutes to go and narrowly missed scoring on his debut. Peters is also attending Afnorth highschool in Brunssum, Holland. The Afnorth team is excellent and has many different nationalities, even Dutch. Afnorth's record is a win and two ties with three games remaining before the team heads off to the European Championships in Kaiserslautern. Peters wishes the Sockers the best of luck this summer.
SIGNIFICANT CHANGES FOR 2006, INCLUDING ONTARIO LEAGUE AND OVER 35 TEAM
April 11th, 2006
The Sockers Club will field an amazing line up of teams for 2006, laying the foundation for a very strong future for the Club. The biggest news is the formation of the new competitive ladies Sockers team which has received membership into the Ontario Women's Soccer League. The new team will be coached by last year's President's Award winner Terry Boyd and managed by Shara Lee Foster. The Ladies Sockers will continue to field two teams in the two tiers of the Bay of Quinte Women's League. The Division 1 team will be managed again by Dana Kernaghan, and Michelle Durkin will assume a new role as head coach. The Division 2 team will be managed by Barb Angus, who also returns to the pitch this year. The team will be coached by 2005 OCAA East Division Coach of the Year, Mike Whitehead.On the men's side, last yr's BQMSL runners up have made some significant signings. The new talent will help the team to challenge to win back its league title of 2004. Steve Whitehead returns as head coach and Mike Whitehead as manager. New on the men's side this year will be the Sockers Over 35 Tournament Team. Many alumni players are returning to the Club they love, and we are very proud to announce that Tom McCulloch will coach the team.
ANNOUNCING SOCKERS CUP 2006
March 10th, 2006
Mark your calendars: Scheduled to take place July 22-23 in Trenton, the Sockers Cup Tournament will feature Men's and Ladies Recreational Divisions, and possibly a Ladies Competitve Division. The tournament application is with the OSA, and more information will follow.
FULL STEAM AHEAD FOR ONTARIO TEAM
March 6th, 2006
Trenton City Sockers FC has filed its official application to join the OWSL. Sockers application has the verbal support of the League and SOSA Distric Office. The team is holding indoor practices and encourages any female players looking for elite level soccer to come for a try out. Please contact Head Coach Terry Boyd at 394 5757 to be part of this inaugural OWSL team for the Quinte Area..
SOCKERS INDOOR LADIES PLACE SECOND IN TOUGH COMPTETION
February 16th, 2006
The Trenton Sockers Ladies A team, with some help from some Kingston friends, is competing in the "A" division of the Kingston Women's Indoor Soccer League. The league consists of four divisions, A being the most competitive, and is divided into two sessions: fall and winter. The Sockers finished the fall league in fifth position, but fought back to finish second in the playoffs. The team is currently in the middle of the winter season, sitting once again in the fifth spot, with a record of one win, two ties, and three losses.The Indoor team is: Dana Throop, SharaLee Foster, Amy Macfarlane, Amie VanSoelen, Suzanne Ouellet, Julie Kay Dracup, Brandy Kennedy, Erinn Sunderland, Shari Johnson, Shannon Maguire, Sarah Callahan, and Ashley Longo. Call-in players are Melodie Murphy, Jamie Magee, and Kristin Walsh.
SOCKERS PROPOSE ONTARIO TEAM !!
February 3rd, 2006
Sockers FC has been involved in ladies soccer since 1990, and has achieved unprecedented success over the last two season, winning the Quinte Women's Division 1 and 2 Championships in both 2004 and 2005. Coach Terry Boyd has now set his sights on higher competition, as the Club is assembling a team to enter the Ontario Women's Soccer League. The League and SOSA have given verbal support to the Sockers application, however, we need the support of all quality women's players in the Quinte area. We have 8 - 10 existing Sockers ready to make the commitment to the team, but we are on the lookout for another 8 - 10 players to really strengthen the squad. If you would like to find out more information, please call head coach Terry Boyd at 394 5757. If you are a female player who takes soccer seriously, this is an opportunity not to be missed. For more info on the league go to www.owsl.ca.
MEN'S OLDTIMER TOURNAMENT TEAM
February 3rd, 2006
Sockers FC would like to hear from anyone interested in being part of the men's over 35 tournament team being assembled for 2006. The team will attend two tournaments, one in May and one in the Fall. Please email team manager Mike Whitehead at mikew@city.quintewest.on.ca for more information.
SOCKERS CUP NEEDS A DIRECTOR
February 3rd, 2006
In order for Sockers Cup 2006 to proceed a volunteer is required to act as Tournament Director. There is a great support network of assistants ready to help out, but we need the one main person to step up. The cutoff date for finding a Director is Feb 15th. Without this volunteer the tournament will not take place. Please email Mike at mikew@city.quintewest.on.ca if you would like to volunteer.
MEN'S INDOOR
February 3rd, 2006
If you would like to participate in the men's indoor soccer program, held on Friday nights, through until mid April, please contact Mike Whitehead at mikew@city.quintewest.on.ca for more details.
TALENT WANTED FOR NEW SEASON
January 3rd, 2006
If you would like to join the Sockers Club, please email Mike Whitehead, Club President at mikew@city.quintewest.on.ca for more information and try out dates. We are currently looking for players for both men's and ladies programs.