2008
SOCKERS RUNNERS UP AT KANATA
October 30th, 2008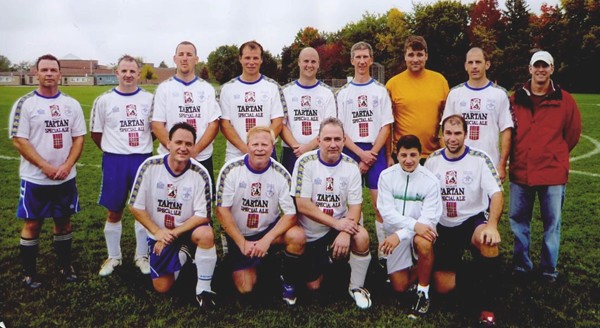 Trenton Sockers OFC entered the Kanata Cup, Sept 27, '08, looking for their prior success to continue. Winners in '06, and Semi Finalists in '07, Sockers started well with a 6-1 win over last year's winners, Croatia. Sockers followed that up with 2 more wins, over Solina and Russell, and a convincing semi-final win. Having led every match, Sockers faced a strong Prescott side. Sockers led 1-0 at half off a JP Dini goal, but were eventually behind 2-1. Disappointingly, a goal line handball was missed, and Sockers finished a very respectable Runner Up. Thanks to the Lightning for another great O.T.T.
Next outdoor event for OFC will be the QOB Rust Remover.
MEN'S INDOOR PLAYERS WANTED
October 30th, 2008
If you are interested in playing men's indoor at the Loyalist bubble, please email Club President Mike Whitehead, at mwhitehead@cogeco.net
HILL & DINI SHARE 2008 GOALDEN BOOT
October 30th, 2008
Josh Hill and JP Dini are co-winners of the 2008 Goalden Boot for Sockers Men's Team. Both scored 14 goals this season. Hill sipped lager from the boot at the year end get together, and Dini will do the same when the boot is handed to him in 6 months time. Congratulations to Both !!
2008 CO-ED CUP A HUGE SUCCESS
October 30th, 2008
After a few years away, the Sockers FC Co-Ed Cup Tournament returned September 20th, 2008. Don Verhage stepped forward and organized a first class event at Centennial Park. 4 teams battled for the right to get their lips on The President's Cup. Geriatric United won the final in convincing style, however, the highlight of the day was Jeff Army's tie breaking beer chug. Nice.
SOCKERS TEAM UP WITH FLAMES
August 1st, 2008
Trenton Sockers ladies played an exhibition match with the Special Olympics Flames on July 25 th at Trenton's Centennial Park. The evening was a total success with all participants having a memorable time. Special thanks to Denise Kozlof, Don Verhage and Terry Boyd, for organizing the event.
PLAYERS WANTED FOR U.S. TRIP
June 13th, 2008
Sockers "over 30 team" is looking for players to travel to New York state for a tournament at the Soccer Hall of Fame, August 9-10 weekend. You must be born 1978 or earlier. Interested .... email Mike Whitehead at mwhitehead@cogeco.net
SOCKERS NEW SIGNINGS PAY OFF BIG
June 13th, 2008
Sockers new signings Jon Allery from Southampton FC, and Geordano DiGirolamo (former Sockers Youth Player) have both made big contributions to the performance of the squad. Geordano has turned in good efforts in goal and out on the pitch, scoring 1 goal. Jon is recovering from a nasty injury in the Fury match, and will return to action soon. Sockers will have further player announcements later this month, as more youth is added to the squad.
SOCKERS BEAT BTG AND CAMPBELLFORD
June 13th, 2008
Sockers FC Men's side opened the season with narrow losses to Azurri (1-2) and Fury (0-1), in matches that the team deserved atleast a single point. Sockers rebounded with a convincing 3-1 win over long time nemesis Camp Bell Ford, followed up by a 6-0 thrashing of BTG on June 12 at Bain Park. JP Dini and Josh Hill are currently tied for the scoring lead in the Goalden Boot contest.
TRENTON CITY SOCKERS LADIES WIN TOURNAMENT
June 8th, 2008
This past weekend saw the emerging Trenton City Sockers Ladies A division team win the Kingston Memorial Tournament. In a sloppy weather weekend the Sockers won out over a field of 14 strong women's' teams from and Toronto, Kingston, Montreal and Ottawa.
Over the weekend the Sockers played a total of 6 games finishing with a record of 5-1, scoring 11 goals for and 4 against.
The Sockers boasted a very strong line up and had the tournament MVP awarded to Shara-Lee Foster, and tournament top scorer awarded to Jasmine Caron, followed closely by Nadia Staikos with 5 goals and 4 goals respectively.
Coach Terry Boyd comments, the team played well together, it was their fitness and skills even when tired which led them to a 2-1 final over a first division team from Ottawa. He also adds we have a team of leaders who play responsibility with a lot of character; it was a pleasure to coach them. The backfield was solid, our goaltending was exceptional, our imagination in the midfield was essential to the great scoring we received up top.It's a credit to Quinte soccer when a smaller center team competes against larger centers and comes out as the winners.
The team missed Kaylee Demers in the backfield who broke her leg the week previous, and look forward to her return. It should be noted that Shara-Lee Foster who won the tournament MVP, was clearly the best player on the field for every game, and every team.
The Kingston Memorial tournament winners are Amy Macfarlane, Brandy Kennedy, Erinn Sunderland, Shara-Lee Foster, Hilary Schick, Dana Kernaghan, Jasmine Caron, Jess Kehoe, Jess Ruckstuhl, Melodie Murphy, Michelle Girduckis, Pamela Clarke, Shari Johnston, Suzanne White, Beth Crosier, Nadia Staikos, Sarah Callahan, and Ashley Longo.
SOCKERS TRAVEL TO BMO FIELD
May 7th, 2008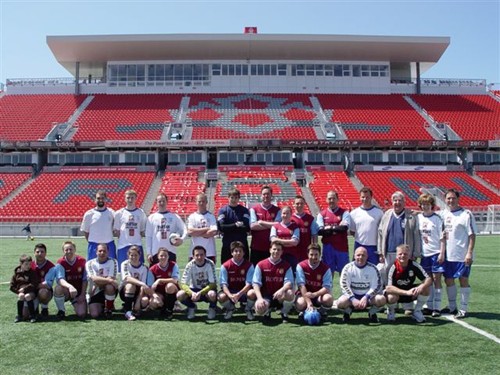 Never mind Danny Dichio, Sockers FC ruled BMO Field on May 4, 2008. A number of Sockers Alumni and current members, joined Coach Tom McCulloch and Club President Mike Whitehead, on the plastic pitch at the National Soccer Stadium. The match lived up to its pre-game billing as Kevin Parr claimed the highest shot of the day, putting one into row 25. Whitehead was pleased with his effort at the north end, which ended up in the beer garden, and Leo 'this one's for you' Vicari didn't disappoint as his legend continues. The Parr contingent ruffled some TFC feathers when the Liverpool flag come out, and security was quickly beefed up.
SOCKERS FINALIST IN CO-ED CUP
April 17th, 2008
The Sockers entered the Peterborough Spiplex Indoor Co-Ed Cup on April 12th, with the first ever Sockers Co-Ed Team. The team performed very well, winning 2 of 3 in the first round of games. Proceeding to the semi final, Sockers tied the local Spiplex team 1-1 after regulation, and proceeded to win the shootout, on the excellent play of Mark MaWhinney and Tiffany Wolters. A tired Sockers squad proceeded to the final, and despite outplaying the opposition, ended the match with a 0-0 final score. Team captain Rudy Mouw buried a rocket pk shot, but it wasn't enough as Sockers came up short after 5 kicks. A really good time was had by all, and Sockers FC will look to enter more co-ed tournaments in the future.
SOCKERS SEEKING GOALKEEPER
April 8th, 2008
Sockers outstanding goalkeeper Mark MaWhinney has negotiated a contract with the Winnipeg Wanderers of the Professional WSL, and will be leaving Sockers mid-season. As a result, Sockers FC are seeking a new goalkeeper to work under MaWhinney's guidance with the intent of taking over the #1 spot mid season. Anyone interested should email Manager Mike Whitehead at mwhitehead@cogeco.netThe new goalkeeper will also have the opportunity to train with Head Coach Steve Whitehead, who holds numerous Sockers goalkeeping records.
ONE TO ONE SOCCER CLINICS
March 24th, 2008
Soccer Clinics are soon available at ONE TO ONE Health & Fitness Centre in Belleville, ON. Derek Arsenault (Personal Trainer, Conditioning Coach and Trenton Sockers FC player) will be instructing the clinics. Clinics are for ages 8-adult. All skill levels welcome. Clinics will be 45-60 minutes in length each and will hold 3 participants (minimum) to 6 participants (maximum). Clinics will focus on harnessing the basics, along with defending, creating space and more! For more info, please visit www.mylivingenergy.com or www.onetoonefitness.ca You may also call Derek at: 613-962-2032 ext. 22.
GOALDEN BOOT GETS AN OVERHAUL
March 5th, 2008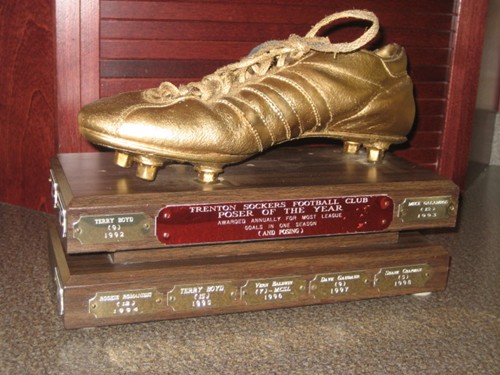 Since 1992, the goalden boot has been awarded to Sockers men's team leading goal scorer. In 2007, Quinton "Q" Burgess took home the boot, after swilling the traditional Loyalist Brewers ale from the trophy. Q was so proud of winning the boot that he gave the trophy an overhaul, back to its original condition.
Bill Coltman and Terry Boyd have their names engraved on the Boot 3 times. Winners to date are: Boyd 92 / 95 / 01, Galambos 93, Romanidis 94, Baldwin 96, Gaudaur 97, Chapman 98, Adam 02, Coltman 03 / 04/ 06, Sewell 05, Walcott 06, Burgess 07.
Special thanks to Q.
SOCKERS LADIES B SEEKING GOALKEEPER
March 5th, 2008
The Sockers ladies B team is seeking a dedicated goalkeeper for the 08 season, and beyond. For details please email Team Manager Barb Angus, see Contacts Section for email address.
GREAT NEWS FOR SOCKERS B
March 5th, 2008
Sockers FC is very proud to announce that six team members will be taking the season off due to pregnancy. Unfortunately, the team is losing a great defender, and even better person, Heather Bennett, as she is moving away from the area.Some new players have been signed to the squad, and those names will be released soon. A few openings remain, please contact Barb Angus, see Contacts page for email, if you are interested.
Some new players have been signed to the squad, and those names will be released soon. A few openings remain, please contact Barb Angus, see Contacts page for email, if you are interested.